Oconomowoc teenager charged with reckless homicide in heroin deal
An Oconomowoc teenager sold a dose of heroin that killed a fellow teen in Waukesha County, according a criminal complaint released Wednesday.
Alexander Leisten, 17, is charged with first-degree reckless homicide for the fatal overdose of Archie Badura, 19, who was found unresponsive in his parents' home in May. Leisten faces up to 40 years in prison.
The complaint offers conflicting narratives of how the deal went down.
According to Badura's girlfriend, Nicole Christensen, she and Badura were picked up by Leisten and his aunt, Jodi Lewein, on the afternoon of May 14. They drove the couple to a Walgreens in Wauwatosa and Leisten sold them $150 worth of heroin.
But according to Leisten, he and his aunt picked up the couple outside a Pick 'n Save in Oconomowoc and drove them to Milwaukee, where Leisten called a source to get heroin.
Leisten "could not recall exactly how that meeting went between he and the source," according to the complaint, which notes that Leisten admitted he might have used heroin in the car after the sale and passed out.
After the deal, Christensen said the group stopped in Waukesha to give some heroin to Badura's cousin, who traded them several Xanax tablets.
The couple and Leisten split the heroin and Xanax with Lewein as a thank you for driving them.
Later that day, after the couple used some of the heroin they bought, Christensen complained of feeling tired and was transported to Waukesha Memorial Hospital.
She received two shots of Narcan, a drug that counteracts heroin overdoses, on the way there. She was released around midnight, picked up by her father and Badura and taken to the Badura family's cottage in Summit. There, the couple snorted one line of heroin each before going to bed.
When she woke up, she found Badura unresponsive, and his lips were blue. She alerted his father, who tried CPR. When emergency dispatchers arrived about 8:55 a.m., they gave at least two shots of Narcan to Badura, to no avail.
The Waukesha County medical examiner's office determined the cause of death to be acute heroin intoxication.
After Badura's death, investigators found a boot in the home with a pill bottle, believed to contain heroin, hidden inside. A detective also found a hollowed-out ballpoint pen which appeared to have "a white powder residue" inside it, according to the complaint.
Leisten is due in Waukesha County Court on Aug. 22 for a hearing.
Twitter: @jaysunsilver
Milwaukee Homicides Database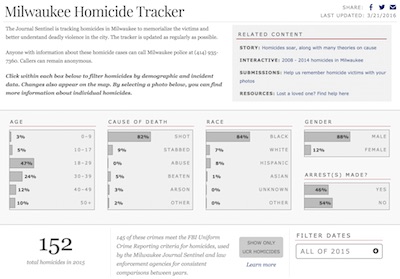 Search homicides in the city of Milwaukee by location, age, race, gender and date.