Ausloos dazzles as Brookfield Central edges KM
Two-hitter allows Lancers to win 1-0 decision in regional final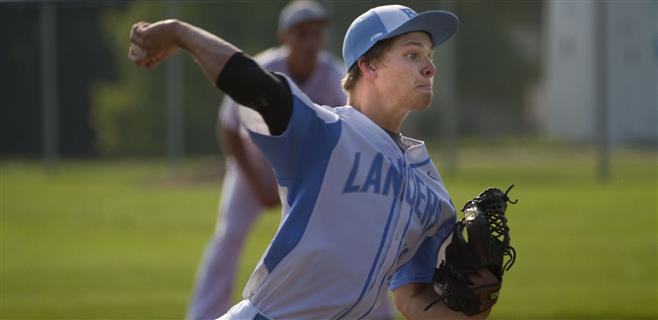 Brookfield Central's Matt Ausloos doesn't have the size or the fastball that Lancers aces Elijah Goodman and Luke Sommerfeld possess. But when it comes to big games, coach Jeff Bigler never hesitates to put his senior right-hander on the mound.
That's because Ausloos is a winner (7-1, 1.43 ERA), as he proved once again July 18 when he defeated Kettle Moraine (18-14), 1-0, out-dueling senior Jake Pohlman for the win.
Ausloos pitched a complete game two-hit shutout, didn't walk a batter and fanned three hitters. He needed that performance, as Pohlman allowed the Lancers only four hits, a walk and fanned four.
Ausloos retired the first seven hitters before allowing his first hit, a double to left field by Andrew Trafton. Sommerfeld, playing left, dove for it and missed, turning a single into a double. Great hustle by junior center fielder Jarred Shipman backing up the play prevented Trafton from taking third.
But Ausloos then got a fly ball to center and a called strikeout to end the inning.
He then retired nine straight hitters before Pohlman singled to center to lead off the seventh. That's when the Lancers defense stepped up for the final three outs.
On a bunt attempt by Robbie Dombrowski, he missed the ball and unsung junior catcher Mike Rufer drilled a throw to Goodman at first when Pohlman wandered too far off the bag. Goodman then rifled a throw to shortstop Riley Richarz who tagged out Pohlman for the first out of the inning.
Dombrowski then looped a fly ball to short center, and Shipman raced in, dove and caught the ball inches off the grass. Sam Huskisson then hit a shot up the middle but Richarz dove to his left, cut the ball off and jumped up and rifled a bullet to Goodman to end the game.
"To be honest, I was feeling a little bit of pressure," Ausloos said about the final frame. "I told myself just throw strikes and let the defense do the rest. Obviously, the defense came up big today."
The game's only run came in the fourth when Goodman and Sommerfeld had back-to-back infield hits to third. After a failed bunt attempt by junior Jonathan Keane popped to Pohlman, junior second baseman Riley Keays stepped up big time.
With two strikes, Keays reached out and drilled an outside pitch down the right field line, scoring pinch-runner Matt Hodges.
"I had two strikes on me," Keays recalled. "He (Pohlman) gave me an outside fastball and I put it down the line. It felt great right off the bat."
Knowing that it is now the "win or go home" time of the year, Ausloos talked about his approach.
"I try to treat the game like any other game," he said. "I don't want to put added pressure on myself."
Ausloos had an outstanding curveball, but he wasn't sure what he was going to take to the mound after his warm-up session.
"To be honest, I wasn't controlling it at all," he said. "But then when the game started, I just relaxed and let it go."
When asked about his tendency to come up with the big win, he deflected the credit to his teammates.
"It's all my teammates behind me," the modest Ausloos said. "I don't strike out a lot of people, so it's all my defense making plays."
"They have confidence in him," Bigler said of Ausloos' defenders. "He doesn't give anything away for free. He's going to go at guys, first-pitch strikes. He's going to locate pitches. In high school, that's just a winning combination.
"If you are not blessed with an 88-89 mile an hour fastball, everyone is going to say the kid can't be that good. But he has been our most consistent pitcher. I think he has been my most consistent pitcher that I ever had."