Meth raid on Pewaukee Lake area house leads to five arrests
Five Village of Pewaukee residents face felony methamphetamine charges after 40 law enforcement officers raided a house near Pewaukee Lake as part of a seven-hour operation last week.
Four of the five — Brandy Leeper, 43; Kinberlee Puls, 45; Michael Seibert, 33; and Norman Thomas, 49 — have court appearances in Waukesha County Circuit Court scheduled for Wednesday on multiple counts related to methamphetamine possession and intent to deliver the drug. A fifth suspect, 17-year-old Bonnie Thomas, is scheduled to appear in court June 30.
Police Capt. Jay Iding said Monday that officers from several units were involved in the raid on Thursday, including village officers, members of a suburban critical incident team and the Waukesha County drug unit.
According to a criminal complaint:
Officers executed a search warrant at 344 Park Ave. acting on a tip that packages of methamphetamine were being shipped from California to the residents through the U.S. Postal Service.
Postal Inspector Daniel York intercepted one of the packages and, under a search warrant, found that it contained about 18 grams of a substance that tested positive for the presence of methamphetamine. York took a portion of the substance as evidence and delivered the remainder of the package.
York then delivered a second suspicious package, similarly packaged to the first, to the residence as Leeper, a renter, sat outside on the steps and immediately made a phone call, the complaint says.
Officers, standing by and waiting to act, executed a search warrant once Leeper walked inside with the packages and found Norman Thomas, a renter, and his daughter, Bonnie Thomas, also inside.
Officers saw Norman Thomas holding the packages in the upstairs window and attempting to hide them as S.W.A.T. members deployed in advance moved toward the house.
Numerous glass pipes for smoking methamphetamine, glass pipes for smoking marijuana and surfaces that tested positive for methamphetamine were found in the upstairs of the house. The second package was also found to contain 27.8 grams of methamphetamine, according to the complaint.
Seibert was stopped in his vehicle near the house. He was driving to the house during the raid. A small glass pipe with evidence of methamphetamine was found on his passenger seat.
Puls, Norman Thomas' wife and Bonnie Thomas' mother, was also found in a vehicle that had pulled up to the house while police were there. Puls said that she was aware Norman Thomas, who she had been in an on-and-off relationship with for 18 years, had used meth in the past but did not know he was still using it.
She also said she had thought Leeper was using Vicodin and had never seen her do any drugs.
Norman Thomas said that he and Leeper were the only meth users in the house, and he had never seen Leeper with more than a "pinch" of meth. Thomas added that he had used the drug about once per week since he has been in the house, according to the complaint.
Thomas reported that Leeper told him she was "waiting on something" a few days prior to the delivery, and upon delivery told him that she "got two of them today." Thomas said he assumed the packages contained meth.
Kristee M. Cole, Seibert's wife and Puls' daughter, was also interviewed and said she had been staying at the house for a few weeks. Cole said she and her husband had used crystal meth, which they had brought from Nevada, in the garage when they first moved to the house, but she had not used any since. She added that Norman Thomas, Puls and Seibert have also used crystal meth.
The complaint noted that York checked on the history of packages delivered to 344 Park Ave. and found nine suspicious packages delivered to the house over the last six months. Each package was sent from California with a fictitious name and address, the complaint says.
Leeper has been charged with possession with intent to deliver methamphetamine and maintaining a drug trafficking place, according to a criminal complaint issued Friday in Waukesha County Circuit Court. Puls has been charged with possession of methamphetamine, possession of drug paraphernalia and maintaining a drug trafficking place.
Norman Thomas has been charged with possession of methamphetamine, maintaining a drug trafficking place and possession of drug paraphernalia. Bonnie Thomas has been charged with possession of methamphetamine. Michael Seibert has been charged with possession of methamphetamine and possession of drug paraphernalia.
Milwaukee Homicides Database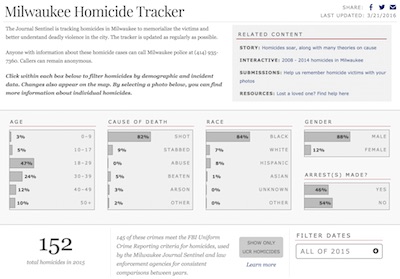 Search homicides in the city of Milwaukee by location, age, race, gender and date.