Man with loan to finance Macedonia casino charged with arson
A Waukesha County man who got an Oconomowoc bank to finance his Macedonia casino project has been charged with arson in the fire that destroyed his pricey lakeside home last year.
Ydbi "Joe" Islami, 58, was arrested Thursday, according to the Waukesha County Sheriff's Department.
According to a criminal complaint released Friday, he was charged with arson of a building with intent to defraud, as a party to a crime; theft by false representation over $10,000; fraudulent writings; and felony false swearing.
According to the complaint:
Investigators suspected arson almost immediately. A neighbor on Monastery Hill Drive in Lac La Belle reported flames coming from 145 Monastery Hill Drive about 10:30 p.m. June 10, 2013.
More than a dozen fire departments responded. No one was injured, but the house was a total loss.
Islami's nephew arrived at the scene and called his cousin, who called Islami, and he arrived about 12:15 a.m. He said he'd been at Potawatomi Bingo Casino, but investigators later found no evidence he had been there that evening, while cellphone records showed he had been closer to home and stopped at a gas station.
Investigators found evidence of flammable liquid throughout the house, an empty gasoline can near the door from the kitchen to the garage, and three more buckets that smelled of gasoline in the garage.
Islami also said he could not recall the address of the house and that he was divorced and lived in the basement alone, the complaint said. A basement bedroom had hardly any clothing in the closet, but Islami had many clothes on hangers in his car.
Kemper Insurance paid off the home's $275,000 mortgage, according to the criminal complaint. But a representative from First Bank Financial Centre said that's not true. Mark McCune, chief lending officer, said the organization has a counter-claim filed against Kemper because it hasn't paid off all the funds due on the property.
In financial statements filed to obtain the casino loan, Islami estimated the value of the home, situated near Lac La Belle, at $1.5 million.
Past fires, Macedonia project
The complaint noted that three other fires had been associated with Islami dating back to October 2000, including one at the residence for an insurance claim of $5,000, one that burned down Around the Lakes restaurant and a third that occurred at Hartford Paradise restaurant.
Kemper Insurance is still paying living expenses for Islami and his wife for the 2013 residence fire, which as of March amounted to $10,000.
In 2010, Islami and his brother-in-law obtained a loan from First Bank Financial Centre in Oconomowoc to finance a hotel and casino in Macedonia called Miraz Struga, which Islami valued at $8.8 million.
Investigators confirmed that a hotel and casino with that name exists, but that it was not completed. They also confirmed that between 2005 and 2010, Islami and other investors with him wired about $2.3 million to Macedonia.
One of the charges in the complaint relates to Islami's application for Social Security disability in 2010, when he listed no assets. That was the same year he claimed a net worth of $6.7 million when applying for the casino loan.
Since 2010, Islami has been collecting $721 monthly in supplemental security income, when his assets would have made him ineligible.
The case is ongoing, and the district attorney's office is anticipating filing more charges related to the investigation, according to sheriff's department.
Bruce Vielmetti of the Journal Sentinel staff contributed to this report.
Milwaukee Homicides Database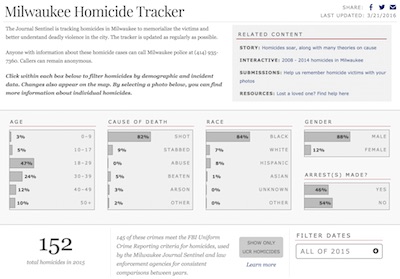 Search homicides in the city of Milwaukee by location, age, race, gender and date.